We first introduced our concept of designing a workplayce in the Future Workers video that was filmed back in 2013. Yes, it really was three years ago!
In recognition of the fact that a new generation will be joining the workforce, we explored the need to create an office design that encourages creativity, inquisitiveness and imagination.
While it's worth remembering that not everyone is Google, one of the few sectors that can pull off a slide, hammock or ball pool is, unsurprisingly, the creative industry.
Creative Spaces
Boom & Gorilla office design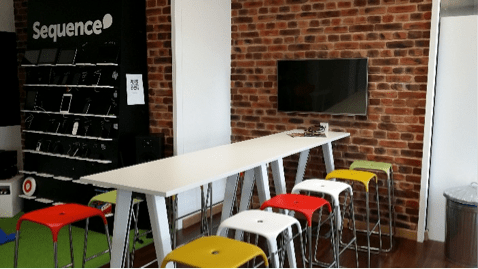 Sequence office design       
We've been lucky enough to work on office designs for some innovative companies, including film and TV production companies Boom Cymru and Gorilla Post Production, and creative digital agency, Sequence.
Now we can add another name to the list; S3 Advertising.
The UK's Coolest Office
Both Wales Online and The Drum have reported on S3 Advertising's new offices at One Central Square in Cardiff, which they're calling the UK's coolest new office.
We were more than happy to work with the team at S3 and develop the design created by interior designer Patrick Abrams from PAC Architecture.
The space for S3 Advertising's 27 members of staff needed to include quirky communal and recreational areas as well as client-facing zones to stimulate creativity, and encourage team building. It also helped to reduce stress with relaxation seats and a multi-person hammock, giving staff somewhere to chill.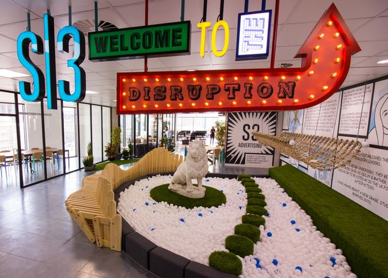 Life-sized lions and 18,000 balls
As well as the more typical pool and football tables, the upbeat office also contained 18,000 balls in a pool, complete with a life-sized lion statue on an island in the middle.
Living trees, multi-coloured paths and neon signs add to the character of the workplace. In the centre of the open plan office, a 32m2 stadium-style area can be screened off when presentations require a bit of privacy… or to watch the Wales v England match!
Working on match-day isn't so bad when you've got your own cinema style area! #TogetherStronger #TheLionsDen pic.twitter.com/rBrLwDBgRl

— S3 Advertising (@S3Advertising) June 16, 2016
Oh, and did we mention the 18-hole golf course?
Work & Play
Despite the golf, lion statue and ball pit, it's worth remembering that play is just one part of this workplayce, and the work aspect is just as important.
S3 also needed spaces where people could collaborate, concentrate and contemplate. So while this is a fun, creative, stimulating space, it's also a place where individuals can find somewhere to focus on being productive and motivated.
Dubbed the lion's den by S3 Advertising, we believe that this office can well and truly be crowned the king of the workplayce.