There are any number of things that can go into creating an office environment that's welcoming and relaxing. It's been highlighted time and time again that the right balance of natural and artificial lighting in an office can improve wellbeing and productivity.
We asked Paul Shoosmith, Sales Director at Enigma Lighting, to give us his thoughts on how lighting can make all the difference to an office design and why this illuminating subject should definitely be a priority for your next office fit out.
Image Source – Enigma Lighting
Have you seen the light?
There was a time when working in commercial building lighting wasn't the most exciting place to be. The most interesting part of your day was likely to be installing an uninspiring 600 x 600 "egg crate" fitting from the ceiling with the odd halogen spotlight to add some visual interest. Thankfully, this is no longer the case. One of the reasons why my job has become a lot more interesting, is due to the huge strides that have been taken in office design, particularly over the past 4-5 years. Businesses are finally giving the companies that they use to design a new office space the freedom to be creative.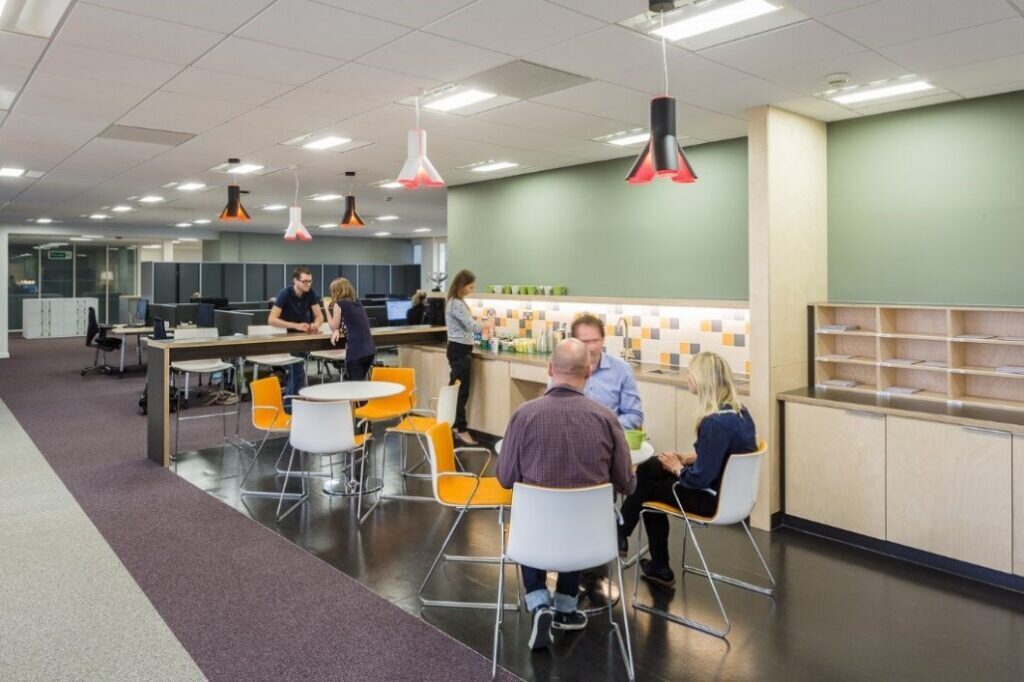 Image Source – Enigma Lighting
A brighter outlook
Today, creating lighting solutions for commercial buildings is a genuinely exciting and inspiring sector to work in, with design boundaries constantly being pushed on each new project I work on. The desire for a unique, inspirational and colourful space means that designers can really use their talents to the max and, with the budgets for office fit out projects becoming more realistic, it gives us the opportunity to approach them with the freedom to really be creative.
At Enigma Lighting, we've been lucky enough to be involved in some wonderful projects recently. It often involves a client who allows design of the space to be the driving force behind the project, which usually means that we can create bespoke lighting that make the space genuinely unique. It can be a challenge, but it's one that we relish, since the results make all our hard work more than worthwhile.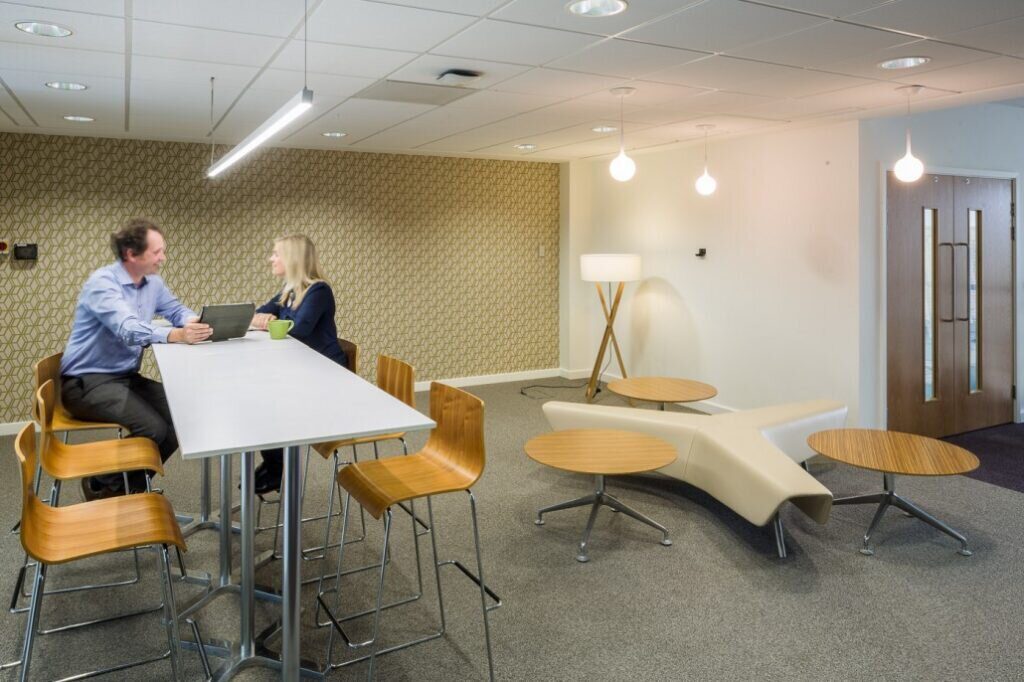 Image Source – Enigma Lighting
Inspiring Lighting
You only need to look at the office spaces provided by such companies as Google and LEGO to see the kind of progress workspace design has made in general. If you look more closely at the lighting, you can see how using clever and thoughtful design can enhance the space, and improve the overall working environment even further.
Image Source – The Toy Detectives
LED has of course played its part in this, with its huge energy saving benefits, low running costs and reduced maintenance. However, the wide selection of forms that LED light sources are able to take also make them an innovative and creative solution. From linear fittings to recessed or suspended fixtures, they can be housed in small, neat profiles that can be both unobtrusive and elegant within an open plan workspace. It's in breakout areas, tea points, meeting rooms and receptions where LED light sources really come in to play. Designs can be a lot softer, using fabrics and textile products like shades and pendants, often in bright colours that can create a real feature.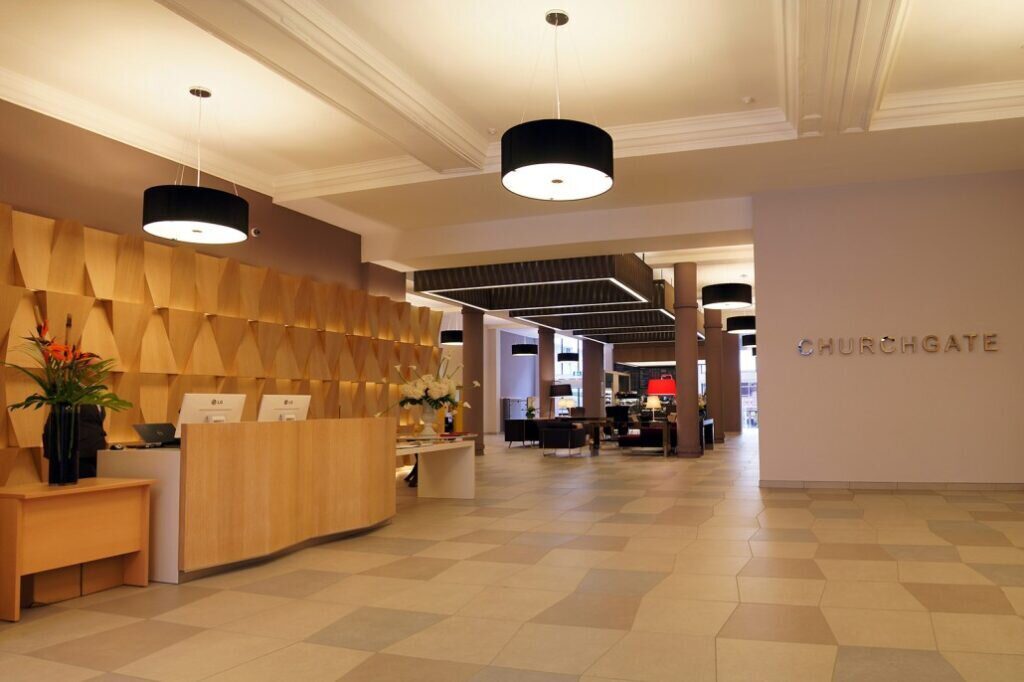 Image Source – Enigma Lighting
Lighting Trends
There seem to be 2 distinct trends in lighting currently; one, as mentioned above, uses bright and colourful lighting with fabric pendants, felt, cotton and bespoke colours on metal, which is often used to accentuate bright modern office furniture and carpets.
The second trend is a more stripped-back, industrial feel, with exposed filament lamps, copper and brass finishes and also factory style shades/pendants and wire cage fittings.
Image Source – Enigma Lighting
A recent example was for a boutique hotel style finish for a commercial reception space. We created a bespoke lighting feature based on a pencil drawing that proved to be a complicated product. A series of large rectangular frames, 4.5 metres square were powder-coated in bronze. With hand-wrapped fabric panels on the sides, it used continuous LED lighting to downlight and also uplight. The crowning glory was a wooden panel joinery detail to the sides and a barrisol diffuser at the bottom, which sat over the new café serving area. It was a labour of love, but the end result was both beautiful and unique.
Anything is possible (within reason)
While it's true to say that anything is possible, it's important to remain practical. With almost any style of lighting at your disposal, it's imperative to remember that ultimately, you're delivering an inspiring workspace for people to spend their day in. With staff spending 40 hours a week there, it's important to get the lighting of your space perfect.
Written by Paul Shoosmith, Sales Director at Enigma Lighting