We're thrilled to announce that Fusion Point One in Cardiff has won the 2021 Wales Property Award for Fit Out/Refurbishment of the Year.
The redevelopment of the 65,000 sqft four-storey office building was completed by Paramount on behalf of Fidelity UK Real Estate, with SEAM Architects, Paragon Building Consultancy, Morgan Structural and Evora Edge.
This is the second consecutive win at the Wales Property Awards for Paramount, having last year won Workplace Design of the Year for the £9M Hodge House project with Stride Treglown, Legal and General, JLL, Hoare Lea and Currie and Brown.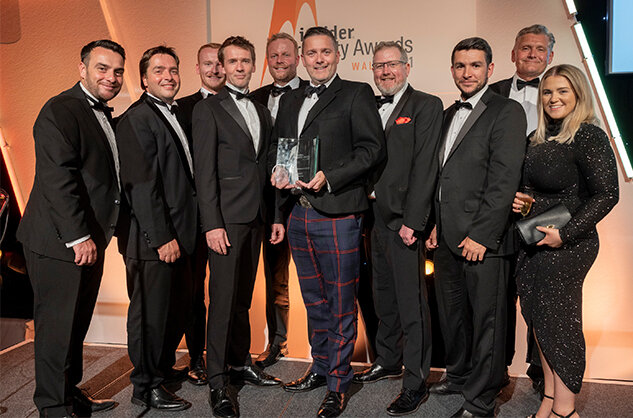 The objective of the project was to implement a sustainable environment for workers and a contemporary design. 98 cycle bays, 14 electric vehicle charging points and new energy efficient mechanical and electrical systems have all been introduced. See the full details of the project here.
Fusion Point One is a standout building with a true sustainability focus and we are delighted that this project has been acknowledged for its incredible transformation. Winning the Wales Property Award is testament to our team who successfully achieved a fantastic finish at Fusion Point One during a very challenging time throughout the pandemic.

We were delighted to be able to come together as a team and celebrate the success at the ceremony alongside the project team including, Paragon Building Consultancy, Fidelity International and SEAM Architects.

— Richard Jones, Managing Director at Paramount
Wonderful to see the hard work from a large team who have delivered the very best in sustainable design – focussing on efficiency and the wellness of Fusion Point One occupiers – being recognised with this award. A big thank you to everyone involved.

— Ewan Montgomery, Portfolio Manager, UK Real Estate Fidelity International
The Wales Insider Awards celebrate the achievements of property and construction sector and is organised by Insider Media. The winners were chosen by a panel of independent judges.
The ceremony took place at Cardiff City Hall on the 15th September.